5th-6th December 2016, Nicosia (Cyprus)
The meeting was organized between the 5th and 6th of December 2016 in Nicosia/Cyprus. The project proposal was prepared by Lancaster & Morecambe College and approved by the National Agency of UK.
APT project consortium is composed of 8 partners: Lancaster & Morecambe College (UK), EAS28-Comune di Ortona (Italy), INNEO-Studio Tworczego Rozwoju (Poland), Submeet Association (Italy), Vsl Ziniu kodas (Lithuania), Academia Postal 3 Vigo S.L. (Spain), Emphasys Centre (Cyprus) and EuroEd (Romania).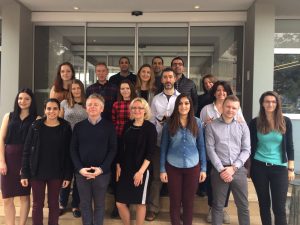 25th-26th May 2017, Rzeszow (Poland)
During the meeting, the partners presented their findings on the current situation regarding the career information, advice and guidance provided in the education systems across all partner countries.
In addition, the consortium had an open and interesting discussion which has been based on the answers given within a primary research by interviewing employers, career counsellors and students in vocational education.
The second day was well spent on the dissemination of the project and many decisions have been taken about the continual development of APT.
16th-17th November 2017, Ortona (Italy)
The meeting was organised between the 16th and 17th of November in Ortona, Italy. During the meeting, the partners discussed the findings of the first Intellectual Output regarding the Career Counselling and Guidance Services provided at national, regional and local level. Based on IO1, the consortium had a constructive discussion about the design of the APT Framework. The themes, topics, activities were defined, whereas a collection of various materials aiming to support educators (trainers and career advisors), employers and parents to guide young people started to be built up. Through the above young people will be assisted to develop their personal and employability skills.
The second day of the meeting was spent on planning the next steps of the project's development and on the dissemination of the products developed so far.
1st-2nd March 2018, Vilnius (Lithuania)
12th-13th July 2018, Lancaster (UK)